Photos show accessories that are not part of your order. Only the content of the tab "What's in the box" is relevant.
Our benefits
More than 1,000 items in stock

free shipping from € 200 within the EU

Partner for Film and TV Productions
The ARRI ALEXA 35 sets a new standard for Super 35 digital video cameras, featuring an all-new 4.6K ALEV 4 CMOS sensor, a massive 17 stops of dynamic range and a host of new features that make it the new gold standard for digital cinematography.
The ARRI ALEXA 35 camera
The ALEXA 35 builds on ARRI's already impressive range of cinema cameras and is perfect for underwater production, providing a compact and feature-rich addition to the ARRI camera range. The ALEXA 35 has a robust, compact form factor, similar to the ALEXA Mini, but with features similar to the larger ALEXA camera. The ALEXA 35 can record both ARRIRAW and Apple ProRES at resolutions up to 4.6K and frame rates up to 120p onto 2TB Codex drives.
To take full advantage of the all-new sensor, ARRI has also developed the all-new REVEAL Color Science. Developed based on feedback from colourists and cinematographers, REVEAL Color Science provides improvements in colour, contrast, sensitivity and dynamic range.
In addition to ARRI's newer LPL (LBUS) mount, which covers ARRI's entire sensor size range with optimised full sensor coverage, the ALEXA 35 can also be used with the PL to LPL Adapter, EF Mount and PL Mount.
The Nauticam underwater housing for the ARRI ALEXA 35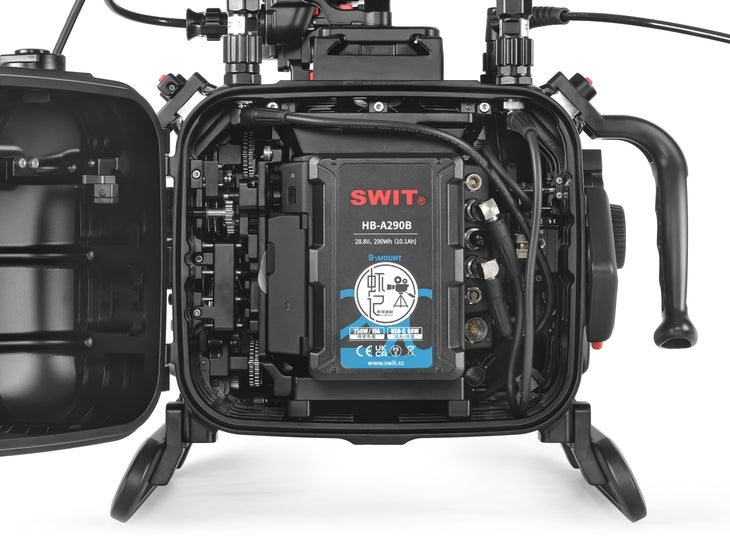 Easy camera installation
The Nauticam system is designed for both owners/operators and landlords and is very easy to set up. With just a pin and an Allen key, the entire mounting and lens control system is set up on the camera base plate outside the housing. This means that the rig can be set up on a table, in good light and with plenty of room to work. Once the camera is mounted on the base plate, the entire system slides into the housing and locks securely into place.
Lens operation
Similar to the ALEXA Mini and Mini LF hoods, the ALEXA 35 hood features an adjustable gear tower that allows you to control focus, iris and zoom via the knobs on the outside of the hood. This diver-controlled device fully meets the needs of a single operator.
For more production-oriented shoots that require remote control, the redesigned Nauticam ALEXA 35 housing features two upper and two lower 15mm rods that allow the use of cforce Plus and cforce mini motors in conjunction with the ARRI Hi-5 handheld unit. Only the upper 15 mm rod is suitable for the larger cforce Plus motors. Unlike the previous generation housings, the motors now drive the lens itself and no longer via the adjustable gear tower. With the standard housing, two motors can be mounted for short primes. If you add the optional 100mm housing extension NA16422, you can mount 3 motors on the 15mm rods, which allows the use of zoom lenses or longer lenses.
The housing also comes with a 3/4′hydroflex bulkhead so that the power, remote control and remote monitoring lines of other Hydroflex rental systems can be used on the Alexa Mini.
A huge range of lenses are supported, from very small standard Zeiss lenses to very large cinema-style zoom lenses. Our port system was tested with the Arri UWZ 9.5-18, the most sophisticated wide-angle lens ever made, and achieved excellent results.
Recommended Accessories for Surface Lens Control
NA16249 LBUS surface cable for Hi-5 hand unit for use with Nauticam Alexa 35 housing (30m)
NA16247 Replacement of internal LBUS cable (from camera to housing bulkhead)
NA16248 Conversion cable für 16223 LCS cable for use with the Hi-5 Hand Unit
.
Battery Configuration
The Nauticam underwater housing comes with a V-mount battery plate and a LEMO connector for the ALEXA 35 camera. There is enough room in the housing for various battery sizes, allowing for long operating times. Surface power is also an option for all-cable shooting.
Trim weights
.
The optional trim weights can be moved independently along the skids of the walker, and there are additional attachment points on the walker itself to tailor the walker to the exact needs of the skier.
Supports the entire skid.
Support for external monitors
.
The SmallHD 503 Ultrabright or Atomos Ninja V monitor can be mounted in the Nauticam NA-503-S or Nauticam Atomos Ninja V-S enclosure and connected via SDI bulkheads and cables, allowing greater flexibility in positioning the monitor on the Nauticam Alexa 35 enclosure.
SDI output
Required accessories for SDI cable system
NA25058 M16 SDI bulkhead
NA25060 SDI cable in 0.3m length
Recommended monitor housing
NA17925S Nauticam NA-503-S Housing for Small HD 503 Ultrabright (SDI cable and bulkhead included)
NA17922S Nauticam Atomos Ninja V-S Gehäuse (SDI cable and Bulkhead are sold separately)
Recommended SDI surface cables
NA25064 SDI surface monitor cable in 15m length
NA25065 SDI surface monitor cable of 45m length
Vacuum test and humidity warning system
.
The Nauticam ALEXA 35 underwater housing is equipped with Nauticam's field-proven vacuum check and leak detection system, which provides constant üinformation on the housing's watertight and submersible status. By creating a slight vacuum in the housing with a reliable and compact hand pump, the system can ensure watertightness before entering the water and during the dive. A simple color-coded LED light system, clearly visible on the Rück side of the case, indicates to the user if the vacuum is stable or if the case is losing vacuum. Leak detection is integrated into the same circuit so that an audible and visual signal is emitted in the event of water ingress. The Nauticam system is temperature compensated, so false alarms due to changes in external temperature or camera heating during an action-packed dive are avoided.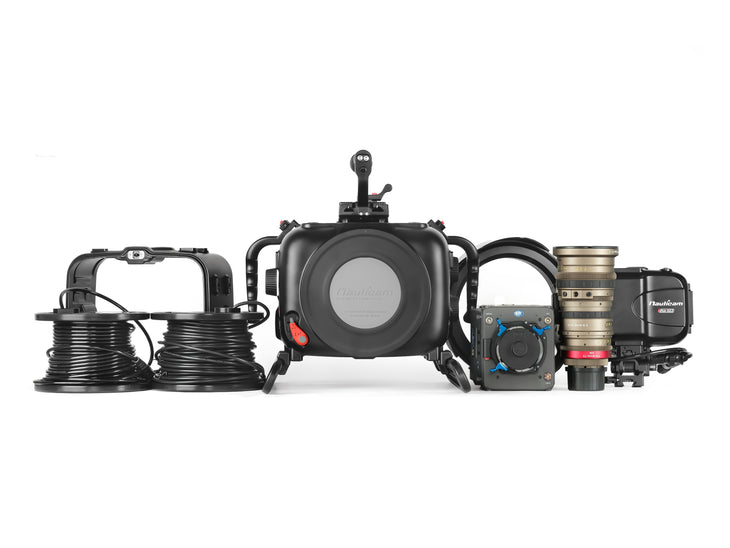 Properties
Body Material:

aluminum

Camera System:

Cinema

Camera manufacturer:

ARRI

Monitor connection:

Lemo

Pane material:

Optical glass

Port shape:

Domeport

portsystem:

N120 (Cinema)

, N200
Data according to manufacturer. Errors and changes reserved.
Technical data
Material: Aluminium
Nenntiefe 80m
Gewicht 14kg
Abmessungen 363 mm x 341 mm x 290 mm (BxHxT)
Portsystem N200
Scope of delivery
ARRI ALEXA 35 Unterwassergehäuse von Nauticam
3 Objektivsteuerungsbaugruppen mit stapelbaren Antriebswellen und 15mm Stangen
Vakuumkontroll- und Lecksuchsystem, Vakuumventil mit doppelter Betätigung
Schnellverschluss und verstellbarer oberer Griff, linker Griff und rechter Griff
Gehäuse-Kufen
1x Reise-Hartschalenkoffer
Werkzeugsatz & O-Ring-Kit
There aren't any asked questions yet.
RED Epic & Scarlet Unterwassergehäuse (N120-Port, RED Touch 5 Zoll LCD) von Nauticam
Die volle Ausnutzung der Vorteile der unglaublichen RED Epic und Scarlet Kinokameras unter Wasser erfordert ein ebenso unglaubliches Gehäuse. Die Nauticam Epic LT basiert auf dem Port-System N120, das über ein Dutzend Canon EF-Objektive unterstützt. Das Epic LT wiegt weniger als 7 kg und der kleine Formfaktor bedeutet, dass es buchstäblich in einen Rucksack passt, der unter den Sitz vor Ihnen passt. Das gesamte Epic LT System ist in wenigen Minuten aufgebaut! Eine oben montierte Arri-Schwalbenschwanzplatte, mit der die Kamera im Gehäuse montiert wird, und eine Zwischenschnittstelle zwischen dem SWITCHBLADE Module und dem Gehäuse. Die Bedienelemente müssen bei der Installation der Kamera nicht voreingestellt sein, und die Kamera kann sogar mit der Schnellwechselplatte von Red auf der Unterseite montiert werden. Energielösungen Das Epic LT Gehäuse wurde so konzipiert, dass es sich nahtlos in das REDVOLT XL Modul und das REDVOLT XL Akkupack von RED integrieren lässt. Bei Verwendung dieses Systems sind Batteriewechsel möglich, ohne die Kamera aus dem Gehäuse zu nehmen. Andere gängige Batteriekonfigurationen werden unterstützt: Anton Bauer Dionic HC mit Goldmontageplatte und V-Mount Batterien mit V-Mount Adapterplatte. Das PAGLink PL96 hat sich bei der Nauticam-Anwenderbasis als beliebt und voll kompatibel erwiesen. integrierter REDTouch 5-Zoll-LCD Monitor Das Epic LT (16106) bietet Platz für den REDTouch 5" LCD-Monitor im Inneren des Gehäuses und ist durch ein Fenster auf der Rückseite des Gehäuses sichtbar, das einen abnehmbaren Blendschutz beinhaltet. Der Monitor befindet sich im hinteren Teil des Gehäuses und schwenkt beim Öffnen des Gehäuses aus dem Weg, um einen ungehinderten Zugang zu den Batterien und Monitorverbindungen zu ermöglichen. integriertes Vakuum-Check- UND Leckagesuchsystem Das Vakuumprüf- und Lecksuchsystem Nauticam wird standardmäßig mit Epic LT geliefert. In Kombination mit einem zusätzlichen Vakuumventil liefert dieses Überwachungssystem ständig aktuelle Informationen über den wasserdichten und sicheren Tauchzustand des Gehäuses. Ein einfaches, farbcodiertes LED-Beleuchtungssystem zeigt dem Benutzer an, ob das Vakuum stabil ist oder ob das Gehäuse Vakuum verliert. Die Leckageerkennung ist im gleichen Stromkreis integriert, so dass bei Wassereintritt eine akustische und optische Anzeige erfolgt. Das Nauticam-System ist temperaturkompensiert und eliminiert Fehlalarme, die durch eine Änderung der Außentemperatur oder durch die Erwärmung einer Kamera bei einem actionreichen Tauchgang verursacht werden.
LCS-Land-Kabel für AMC1
LBUS-Oberflächenkabel für Hi-5 Hand Unit zur Verwendung mit Nauticam Alexa 35 Gehäuse (30m)