Photos show accessories that are not part of your order. Only the content of the tab "What's in the box" is relevant.
Delivery time: 1-3 working days*
Our benefits
More than 1,000 items in stock

free shipping from € 200 within the EU

Partner for Film and TV Productions
An underwater flash designed for macro
The Backscatter Mini Flash 2 MF-2 is a major upgrade to the Backscatter Mini Flash MF-1, with tons of new features and performance upgrades, including Olympus TTL, remote strobe control, high-speed sync, test mode, emergency signaling capability, a faster recycle time, and LED lights that are twice as bright as the previous model. All of the accessories from the Backscatter Mini Flash MF-1 carry over to the Backscatter Mini Flash 2
NEW: Automatic TTL For Olympus Cameras
NEW: Wireless Remote Control
NEW: High-Speed Sync
NEW: Built-In 1000 Lumen Focus Light
NEW: Test Mode & Beacon
NEW: Faster Recycle Time
NEW: Bigger Battery, Longer Run Time
Most of the conventional wisdom surrounding underwater strobes is that brighter and wider always equals better. If you're shooting macro underwater photography, you want the exact opposite. You want a tightly controlled light to pinpoint the subject and keep the background as dark as possible. The Mini Flash 2 is the perfect flash + snoot combination for any serious underwater macro photographer. Its tiny size can get into the tightest spots and the companion Optical Snoot OS-1 makes it the perfect macro strobe to give you the creativity you've been missing.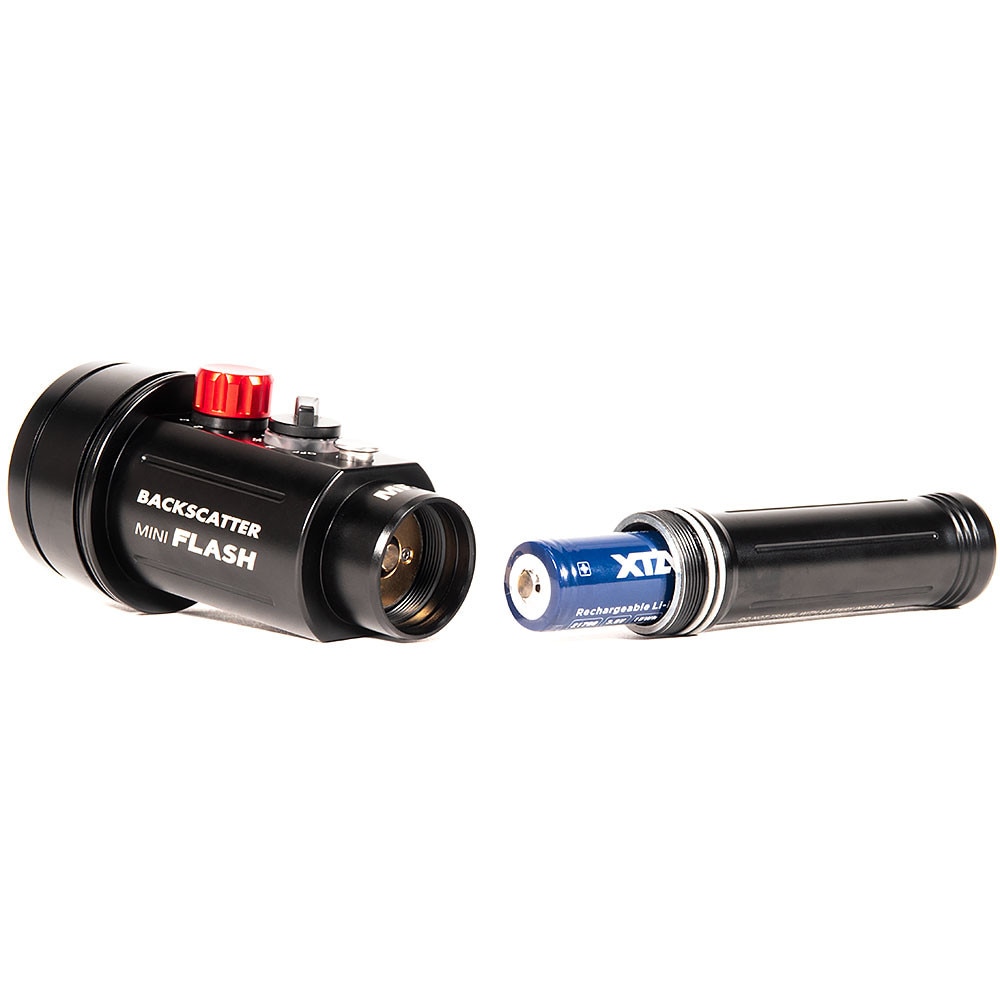 WIRELESS REMOTE CONTROL
The Backscatter Mini Flash 2 features a remote transmit and receive function for wireless remote control and triggering.
The remote system works by the main transmitting strobe having the ability to remotely adjust the power level of other Mini Flash 2 receiving strobes. The included Light Pipe attaches to the fiber optic mount of the Mini Flash 2 and allows for receiving the signal from the transmitting strobe without the need for a fiber optic cable or an electronic trigger.
No cables and no reaching out for a remote strobe to change power levels means less silt from moving around or potentially freaking out the critter you're trying to take a picture of.
This works great for off-camera remote side lighting, backlighting, and snooting from the new Backscatter Remote Lighting Muck Stick. Remote lighting is now easy to deploy and a breeze to use.
Remote lighting can create a whole new look for subjects that normally blend into their environment. The first shot above is with just the Mini Flash 2. The second shot is with a remotely placed Mini Flash 2 and Optical Snoot OS-1 on the Remote Lighting Muck Stick placed above and behind the subject. The third shot is with the Mini Flash 2 and Optical Snoot OS-1 lighting the front and a remotely placed Mini Flash 2 and Optical Snoot OS-1 with the Backscatter Color Filter System on the Remote Lighting Muck Stick placed above and behind the subject.
1000 LUMEN BUILT-IN FOCUS LIGHT
With powerful 1000-lumen LED focus lights built-in, there's no need for a separate focus light to manage on your rig. It makes a perfect companion for compact camera shooters looking for a great all-around streamlined strobe solution. It's also the perfect solution for advanced mirrorless and SLR shooters looking to reduce their footprint, simplify their lighting and lighten their rig for easier shooting.
The LED lights in the Backscatter Mini Flash 2 are now twice as bright as the previous Backscatter Mini Flash MF-1 making this the absolute easiest strobe and snoot combination to use. Even in bright shallow conditions, it is super easy to see the target light from the snoot in the same exact shape and position as the flash. With no guessing on where the flash will fire, the Mini Flash 2 makes it as easy as can be to get perfect snooted shots right out of the box. The LED lights will run up to 90 minutes on a full 21700 battery.
AUTOMATIC TTL FOR OLYMPUS CAMERAS
The Backscatter Mini Flash 2 is compatible with Olympus's TTL protocol through RC mode. In our testing, the Olympus RC system produces the most consistent and accurate TTL exposures of any underwater system. The Mini Flash 2 takes this a step further by also having an option for finely tuned macro TTL.
Most TTL systems from camera manufacturers have not been optimized for close-up macro use. This usually results in TTL not working well at close distances and lower flash outputs associated with macro, leading to overexposed images. The Mini Flash 2 has a TTL mode specifically tailored to macro that allows for better and more accurate exposures when compared to other systems available.
Exposure compensation is possible in TTL and is controlled directly from the camera, but most likely won't be needed. TTL even works through the Optical Snoot OS-1 for perfect snooted exposures!
HIGH SPEED SYNC
High Speed Sync (HSS) is where the camera can shoot faster shutter speeds than the camera's flash sync speed by using a special mode on the underwater flash. HSS allows for wider open apertures while still being able to maintain a darker background than otherwise would be possible at slower shutter speeds.
Olympus mirrorless cameras can achieve HSS through Olympus RC mode with compatible housings such as the Backscatter Octo Housing for the Olympus Pen camera or with other brand mirrorless and SLR cameras including Sony, Nikon, and Canon with 3rd party flash triggers that support HSS such as UW Technics and the Turtle trigger from TRT Electronics.
Properties
Arm Attachment:

1-inch ballhead

, YS connection

Battery:

18650

Body Material:

aluminum

Power setting:

manuely

Strobe connector:

optical Sea&Sea
Data according to manufacturer. Errors and changes reserved.
Technical data


Depth Rating: 300ft/100m


Guide Number: f16


Lumens: 1,000 Lumens


Power: Single 21700 Battery


Recycle time (full): 1.0 seconds


Number of Flashes (full): Over 2000


Emergency Ping: 12 hours with full battery


Weight in Air: 14.8oz / 420g


Weight in Water: 5.29oz / 150g


Sync Cord: Fiber Optic


Scope of delivery


MiniFlash MF-2 macro underwater flash from Backscatter.

1-inch ball head mount


YS perforated plate mount


Diffuser


Spare O-ring kit


O-ring grease


Note: Battery and charger not included
.
There aren't any asked questions yet.