Photos show accessories that are not part of your order. Only the content of the tab "What's in the box" is relevant.
Delivery time: 1-3 working days*
Ultra Wide, High Power, Compact Underwater Strobe
Achieved an increades GN22 with the same compact size as the previous model (INON S-2000). A high-perfomance fly-eye dome to dramatically increase beam angle underwater. Large wheel dial for operability, easy to see phosphorescent panel. Double O-Rings greatly reduce the risk of flooding.
Compact body yet delivers GN22
Equipped with a fly-eye dome lens enabling super wide underwater beam angle of horizontal 140°×vertical 100°
Reliable and proven "S-TTL Auto" and 12-step "Manual Flash
Large wheel dial for dramatically improved operability. A phosphorescent panel for easy readability
Double O-rings greatly reduce the risk of flooding
Front positioned base contributes more flexible lighting
Operates on four AA batteries, readily available and reasonably priced
Compatible with various strobe dome filters
Supports "Quick Holder" for easy one-touch attachment/detachment

Compact yet Powerful GN22
Despite of compact body, the S-220 spreads high-power GN22. The full-scale performance coupled with a wide underwater beam angle provides unparalleled performance as a main strobe in all areas, regardless of whether for wide-angle or macro photography or compact digital camera or SLR camera.
Super Wide Beam of 140° Horizontal x 100° Vertical Underwater Created by Fly-eye Dome Lens
A precisely calculated and uniquely designed fly-eye dome lens for the light-emitting part attains extraordinary underwater beam angles of 140° horizontally × 100° vertically with minimal light distribution Variation.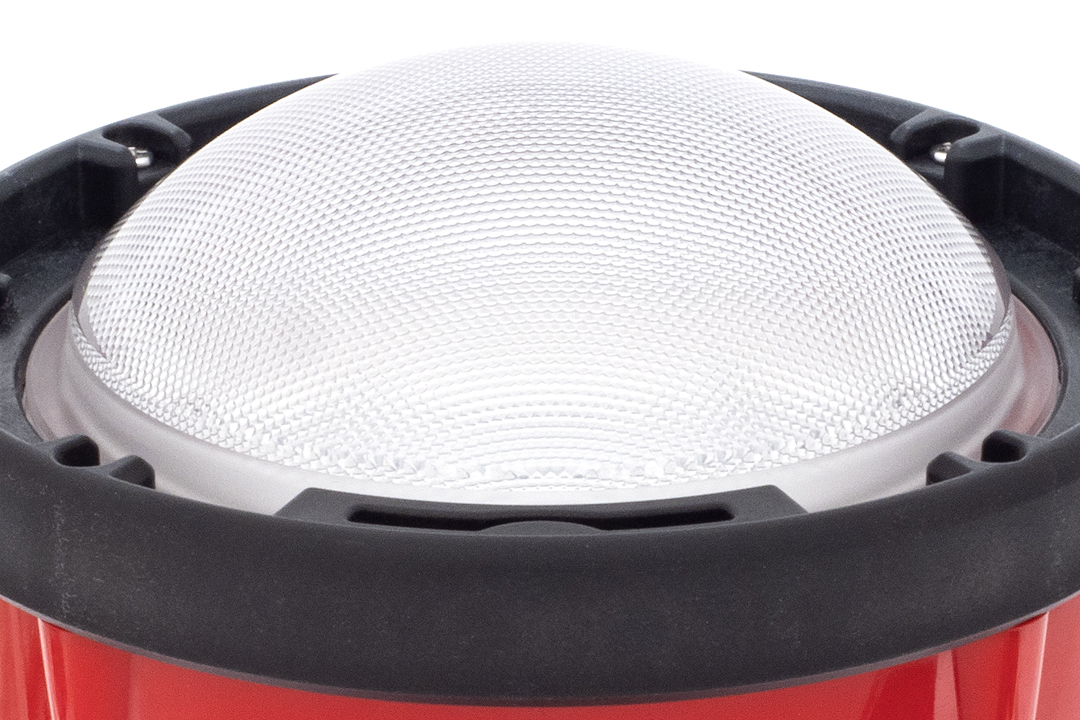 This wide beam angle perfectly fills the "UWL-95S XD" + "Dome Lens Unit III" underwater coverage of horizontal 140° x vertical 100° (at 4:3 aspect ratio), enabling a single S-220 strobe to illuminate the entire image.
Reliable "S-TTL Auto" and 12-step "Manual Flash"
Equipped with reliable and proven INON original high-precision automatic "S-TTL Auto" flash control system and 12 step "Manual Flash" function with -0.5EV. increment.
The S-TTL Auto system can be used not only with camera's built-in flash but also with INON original TTL converter equipped with INON housings, "X-2 R6 Mark II","X-2 R6" and "X-2 R5" for even more precise TTL system. You will never miss a shutter chance.
Large Wheel Dial for Greatly Improved Controllability and Phosphorescent Control Panel Improves Readability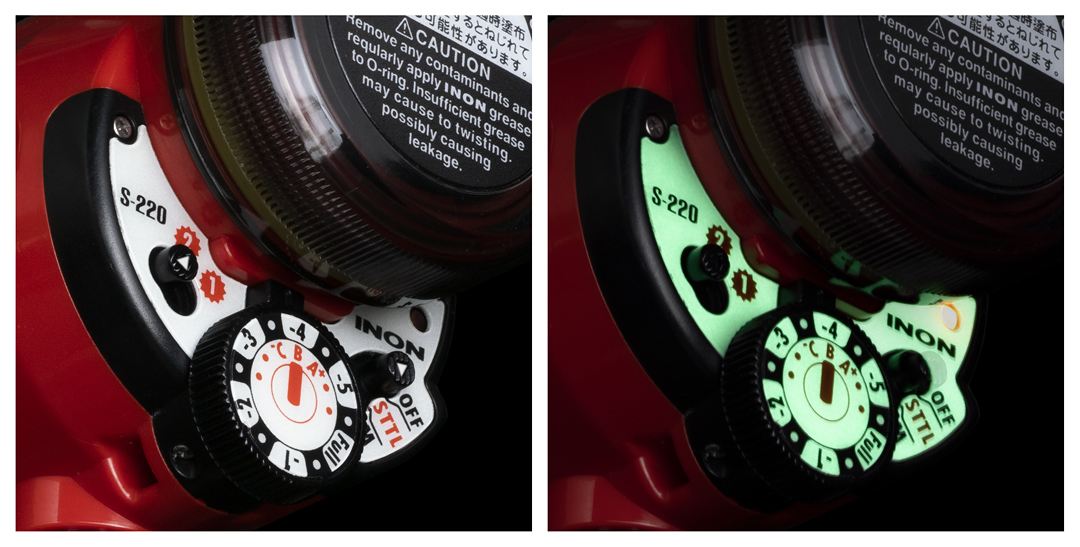 Redesigned large control wheel and switches significantly improve operability. In addition, the rear control panel is white-based highly illuminant phosphorescent material, ensuring easy-to-read usability both during day and night diving.
Double O-rings Significantly Reduce Flooding Risk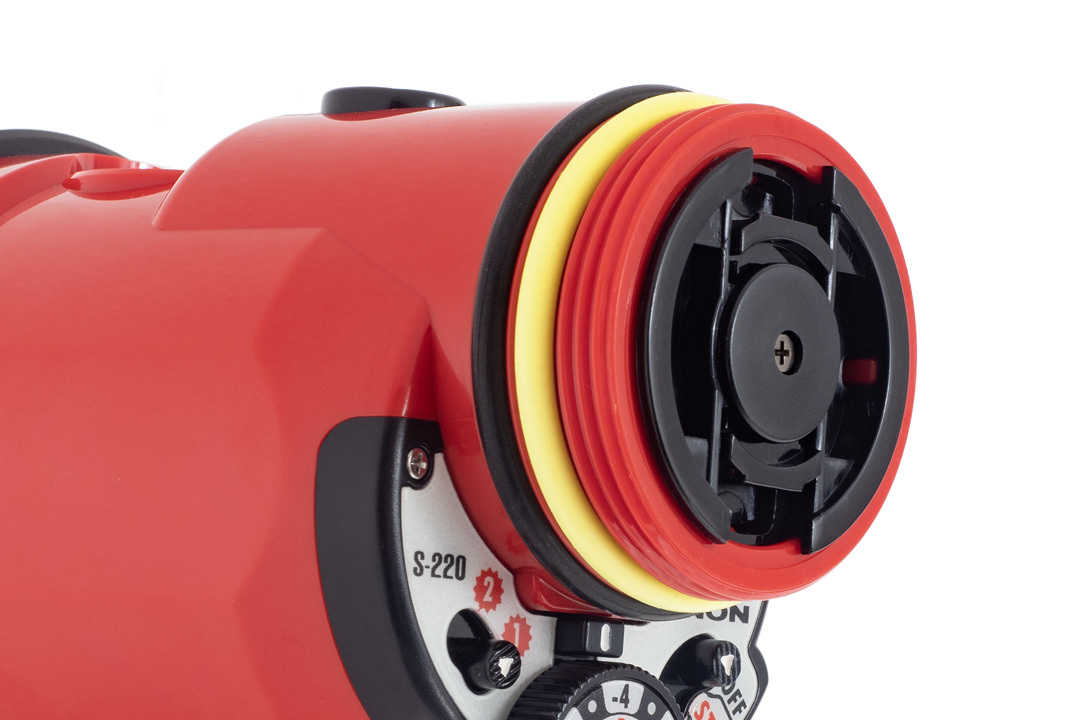 Ball adapters such as the "Z Adapter MV" and "Direct Base Ⅲ" is located forward close to the light-emitting surface, instead of rearward in the previous models not let an optical cable to interfere lighting flexibility.
Operates on 4 Readily Avaiable, Inexpensive AA Batteries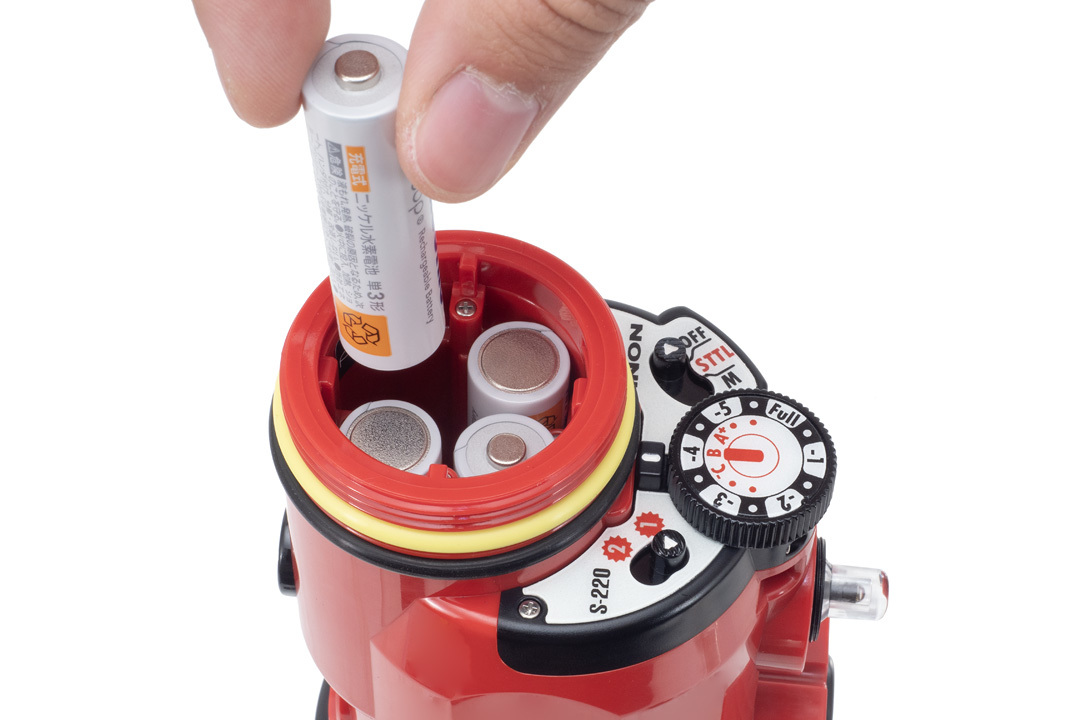 Various Dome Filters
The S-220 strobe is equipped with a bayonet mount to use various dome filters.Packaged dome filters are "Strobe Dome Filter S [SOFT]" which increases strobe beam angle to horizontal 150° x vertical 110° while reducing light intensity by -0.5EV. and "Strobe Dome Filter [ND]" which reduces light intensity by -4EV. specifically for macro imaging.In addition, two optional strobe color filters are available: Strobe Dome Filter S [4900K] and Strobe Dome Filter S [4600K], which warms native strobe color temperature 5500K to either 4900K or 4600K.
Properties
Battery:

AA Batteries

Power setting:

manuely

, sTLL

Strobe connector:

optical INON
Data according to manufacturer. Errors and changes reserved.
Technical data


S-TTL and preflash reduction


Number of wires: 22


Batteries required: 4 x AA


Scope of delivery


S-220 Underwater Strobe by INON


Battery compartment cover


O-rings


O-ring grease


There aren't any asked questions yet.
Direct Base III
The Direct Base III is a fundamental part to attach arm system. Directly attached on the Grip Base D4 / Grip Base M1 / D Holder / SD Front Mask for HERO5/6/7 / Weight Plate or via optional M6 Plate Direct Base III or M5 Plate Direct Base III on a housing or other base products. It is also possible to attach the Direct Base III on the middle of the Stick Arm or Multi Ball Arm via optional M6 Joint. The Direct Base III is attached on a strobe as well. Its ball-joint is made of metal, to provide rigid strobe positioning only by lightly fasten the Clamp III.
Z Joint by INON
A joint adapter to attach Z-330/D-200/S-2000/Z-240/D-2000 strobe on YS type arm head including Grip Base D4/Grip Base M1/D Holder/Shoe Base II/YS Adapter MV/YS Arm/Direct Base YS RT etc. Also usable to attach an LED flashlight product on YS type arm head in combination with Double Light Holder LE/Quad Light Holder LE/Strobe Light Holder LE/Strobe Light Holder LF. Compatible strobe/light etc. Z-330, D-200, S-2000, Z-240, D-2000, D-2000S, D-2000W/Wn, D-180 (*1), D-180S, Z-220 (*1), Z-220F, Z-220S (*1), Strobe Light Holder LE, Double Light Holder LE, Quad Light Holder LE, Strobe Light Holder LF, SD Front Mask for HERO5/6/7, SD Front Mask STD, SD Mount Cage for HERO3/3+/4, SD Mount Base for TG-Tracker, SD Mount Base UWH1 Compatible base/arm etc. Shoe Base II, YS Adapter MV, Double YS Adapter MV, YS Adapter WB MV, YS Adapter, YS Arm M ,YS Arm MS ,Bar Mount, Grip Base D4, Grip Base M1, D Holder, D Holder Extension Bar, Port Arm for MRS, Port Arm for UFL-MR130 EFS60, Direct Base YS RT, Direct Base YS
Z Adapter II
The Z Adapter II is an optional product to add INON Arm II compatible ball-joint on a strobe, light holder or base. An arm product is combined in combination with a clamp. Metal body enhances stability of combined arm. It is useful when handling long arm via this accessory as the Z Adapter II attached on the Grip Base D4/M1 will have its ball-joint vertically or horizontally.
Battery Box Outer Cap
No. 7: outer battery compartment cover Compatible with: Z-330 D-200 S-2000 Z-240 D-2000 series D-180 series Z-220 series
Battery Box O-ring
Compatible for battery compartments from: S-220 Z-330 D-200 S-2000 Z-240 D-2000 series D-180 series Z-220 series
Silicone Grease
Special grease formulated to match INON yellow O-ring. Can also be used with conventional black O-ring.